Resources
Preparing to Attend
Step 1. Register for National Fall Conference
All registrations occur in the FCCLA portal. Before you register, the items listed below must be complete:
All prior invoices must be paid.
All students and advisers attending must be affiliated (submitted and on an invoice) to receive the member rate.
Step 2. Reserve Hotel Room(s)
FCCLA contracts with hotels in cities where the nationally sponsored meetings are held.  Room rates and cost of meeting space are based on an anticipated room pick-up. It is important that FCCLA attendees stay within the official conference hotel block when attending the conference.
Step 3. Book Travel
Now that you have registered for the conference and booked your hotel room(s), it is time to make your travel arrangements. Ensure that the hotel is available on your preferred travel dates before making transportation arrangements to avoid any change fees.
Registration Rates
Registration is required to participate in all sessions at the National Fall Conference. Name badges will be checked for admission to sessions, the Exhibits, and all other conference activities. Competitive Events participants must be affiliated to compete in a Skill Demonstration Event or the FCCLA/LifeSmarts Knowledge Bowl.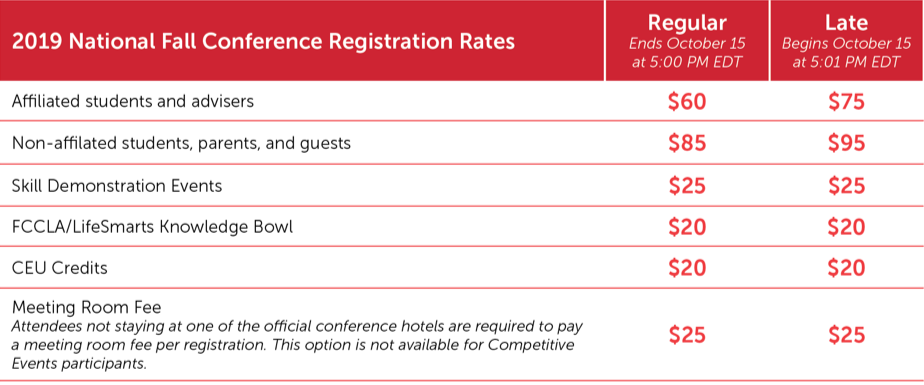 Conference Deadlines
September 20, 2019
Teen Talks Presenter Applications Due
October 15, 2019
National Fall Conference regular registration ends at 5:00 PM EDT and late registration rates are in effect. Please be advised that registration must be submitted to receive the regular rate.
Cancellations must be submitted by 5:00 PM EDT through the FCCLA Portal to be eligible for a refund, less applicable administrative fees. No refunds will be honored for cancellations received after this deadline.
Substitutions must be submitted by 5:00 PM EDT through the FCCLA Portal to be processed at no charge. Requests made after this date will incur a $25 administrative fee per substitution.
Competitive Events registration ends at 5:00 PM EDT.
October 18, 2019
National Fall Conference housing deadline
October 31, 2019
FCCLA/LifeSmarts Knowledge Bowl Team Smarts Quiz and Online Qualification Deadline
National Fall Conference full payment deadline. Payments received after this date will be assessed a $25 late fee.
Attendance Justification
This toolkit is for advisers and students and can help you gain support to travel to the FCCLA National Fall Conference. Use the fillable letter to help ask for support for your administration, plus save time by using the worksheets to show everything you will gain from the experience. The worksheets are designed for students and advisers and are a great way to organize the value of the attending - before, during and after the conference!