Resources
The Japanese Exchange is a scholarship opportunity for FCCLA members to travel to Japan for 4-6 weeks as an exchange student. This scholarship is funded by the Kikkoman Corporation and administered by Youth For Understanding USA (YFU). Scholarships are worth more than $8,995 each.
Based on the premise that international understanding can be achieved through individuals, the Japanese Exchange program emphasizes family living as the core of the overseas learning experience. The opportunity to experience the day-to-day life of another country and its people enhances members' awareness of international issues.
Don't miss your opportunity to live in Japan next summer with a Japanese host family. You can be one of 14 FCCLA members selected to experience a Japanese tea ceremony, traditional Japanese foods, or climb up Mount Fuji with a Japanese brother or sister. It will be a summer you will never forget!
The Japanese Exchange Scholarship includes
Round-trip international and domestic travel
Placement with a carefully selected host family
Regional orientation for scholarship recipients and parents
3-day Japan specific orientation at the beginning of the program
Youth for Understanding USA staff and volunteer support services in the U.S. and Japan
Room and board
Comprehensive insurance
Scholarships
To apply for the Japanese Exchange Scholarship, the applicant's birthday must fall between April 2, 2003 and April 1, 2005. Students who do not meet this age requirement will be considered for admission on a case-by-case basis. The date range for this program is mid-June and returning late July. Students are not allowed to arrive late or plan to leave early. Please note that these program dates can be subject to change. The scholarship application is located on the Youth For Understanding USA website.
Applications may be submitted electronically and any necessary supplemental forms can be mailed to YFU. Please note applications are no longer being accepted for the 2019-2020 academic school year.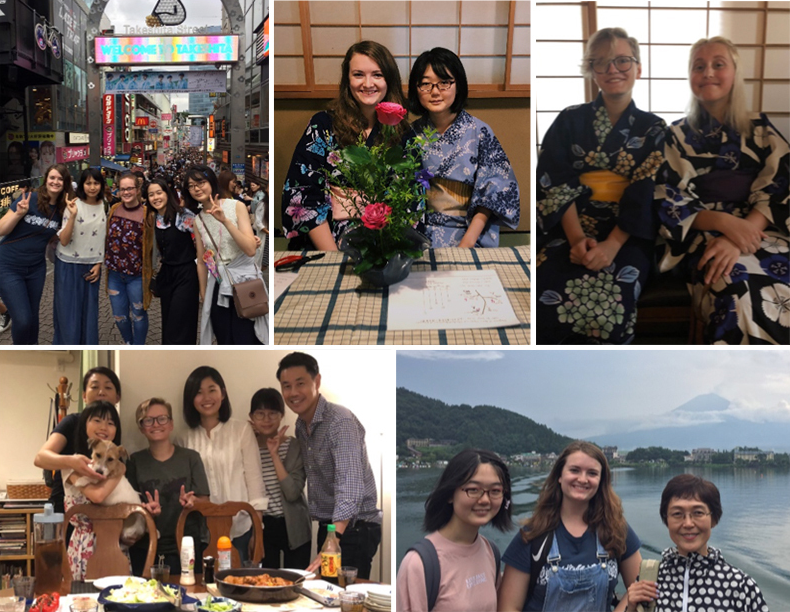 Testimonials
"Japan is a great nation with a beautiful culture and beautiful people. Since I was in elementary school, I have wanted to visit Japan; now, because of the amazing scholarship I received, I have lived that dream. However, I wasn't just "visiting," I was actually living the highs and lows. It was more than I could have ever asked for. I was blown away by every aspect and was always surprised. I received more than any vacation could have given me. I gained a new family, a great group of friends, and relationships that will, hopefully, last a lifetime."

- Kaytlin Talbot
"I could not me more grateful for this life-changing experience. It has taught me so much about acceptance and finding common ground among differences. I loved absolutely every second of my stay, having glided through it without culture shock. It has been the greatest experience of my life so far, as I have built strong relationships that transcend continents, navigated the techniques to locating common ground among different cultures, discovered beautiful art, and immediately loved my Japanese family from the moment I met them. This experience has shown me the world, in contrast to my small farming community, where so many know so little about worldly hardship, difference, and understanding."

- Ysabeaux Ng
"Going to Japan helped me learn a lot about their culture. While I was there, I got to participate in a tea ceremony and festival. I also got to see the "Golden Temple." This scholarship gave me the opportunity to let me go to another culture and learn. This was a once in a lifetime chance."

- Courtney Glasgow
"My experience in Japan was no doubt a once in a lifetime opportunity. The long application process, waiting for a result and overall fear of going was more than worth the memories I've gained. I would recommend this opportunity to anyone who thirsts for new adventure. My trip to Japan has inspired me to try so many new things in life. This opportunity that FCCLA gave to me took my inner flame and ignited it into a firework!"

- Hannah Zickefoose