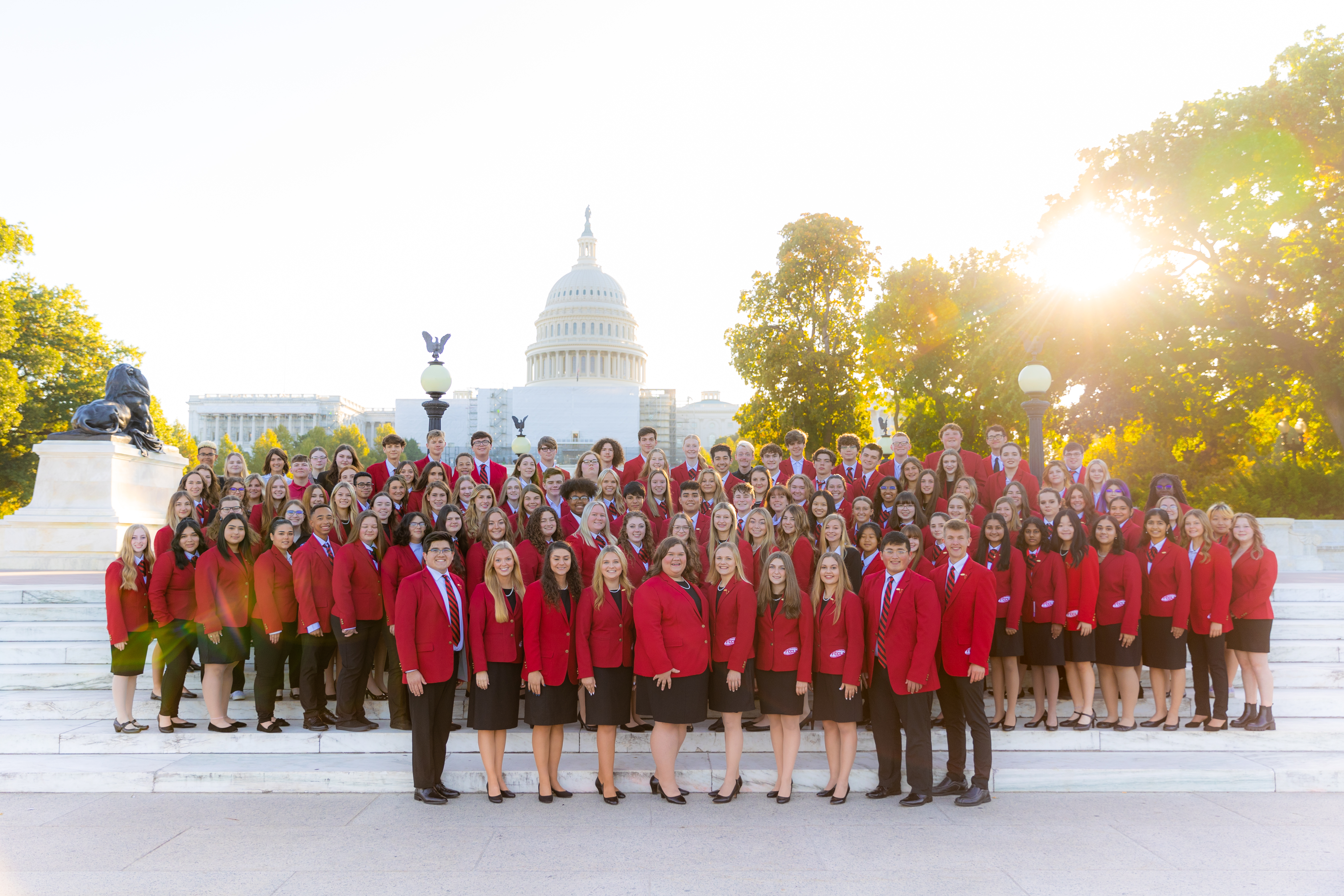 Embark on the Ultimate Journey of leadership training at Capitol Leadership in Washington, D.C.! This immersive event provides in-depth advocacy training, equipping you with the skills and knowledge to communicate effectively with elected officials. Connect with like-minded members and gain insights into making a real difference in your community. Prepare to develop your leadership skills and make your voice heard on important issues!
All affiliated members and advisers are invited to attend and meet at the nation's capital to develop leadership skills, learn about advocacy and government relations, and meet with elected officials.
Don't miss this amazing opportunity to travel to Washington, D.C., and advocate for Family and Consumer Sciences education and FCCLA!
Registration is now open in the FCCLA Portal! 
---
Date
Location
Hyatt Regency Washington on Capitol Hill 


400 New Jersey Ave NW,
Washington, DC 20001
Hotel Rate
$265.00 per room night, plus 14.95% tax, (Subject to Change)

Click here for more information on housing. 
Registration
Click here for more information on registration.
Attendee Justification
For support in attending the 2023 Capitol Leadership event, utilize the provided Justification Letter in the resources section.
Dress code
FCCLA's Board of Directors has set forth a mandatory dress code policy for Capitol Leadership. Please review the policy prior to attending to ensure you and your students do not miss out on any sessions.
Mandatory Attire for Students
FCCLA Red blazer is encouraged
Red, black, or white polo or professional white shirt (long or short sleeves; collar not required)
Black bottoms (slacks, skirt, sheath dress)
Shoes (black preferred)
Jeans, shorts, t‐shirts, and athletic wear are NOT acceptable

 
Mandatory Attire for Advisers, Chaperones, and Guests
Business professional
Jeans, t‐shirts, and athletic wear are NOT acceptable
Questions?
---
"Capitol Leadership is an empowering experience, offering unique opportunities to learn, advocate, and network in Washington, D.C! Sharing our passion for FCCLA, Family and Consumer Sciences, and Career and Technical Education with legislators helps make a difference as we enhance our advocacy skills!"

- Amanda Chen, 2023-2024 National President
"Capitol Leadership is an event full of opportunities and a must-attend. Attendees are given a platform to advocate for Family and Consumer Sciences, FCCLA, and Career and Technical Education. It's also an excellent opportunity to expand your network by connecting with people from across the nation!"

- Leonardo Luna-Duran, 2023-2024 National Vice President of Finance
"Capitol Leadership is a highly beneficial conference for FCCLA members to develop their leadership skills and seize the opportunity to promote FCS Education and FCCLA. This event provides students from across the nation with a seat at the table and the chance to engage in important conversations with legislators at the national level, which is a great way to kickstart your advocacy journey."

- Easton Hrabe, 2023-2024 National Vice President of Development