National Leadership Conference
Resources
HNLC Special Announcement
As you may have seen in the news, the City of Nashville is removing all restrictions except a mandatory indoor mask mandate as of May 14, 2021. Based on this information, FCCLA is able to accommodate more registrations for the in-person portion of the 2021 FCCLA Hybrid National Leadership Conference in Nashville, TN. Please read the memo regarding the specifics of the change.
---
Reset, Renew, and Recharge "Beyond Measure" at the 2021 National Leadership Conference
FCCLA is pleased to announce that the 2021 National Leadership Conference will be held as a hybrid event June 27-July 2 both in Nashville, TN and on the FCCLA virtual platform. The in-person version of NLC will have limited capacity and all attendees will be required to follow all safety protocols set by the organization, hotel, city, and health agencies.
All affiliated members and advisers are invited to attend either in-person as space permits or attend virtually to reset, renew, and recharge for a successful 2021-2022 school year and celebrate this year's success. The focus of the 2021 National Leadership Conference will be professional development for FCS educators and leadership and career exploration for youth attendees.
Don't miss this amazing opportunity to go "Beyond Measure" with FCCLA at the 2021 Hybrid National Leadership Conference!
---
Service project
This year National FCCLA is partnering with WeHelpTwo to make a positive change by selling funky socks. Yes, funky socks can change lives! National FCCLA wants to make twice the impact by using the funds raised from the first 100 socks sold to provide children born around the world with club feet with corrective braces as a part of the Socks for Clubfoot program. After the first 100 socks are sold, FCCLA's Ultimate Leadership Fund will receive a portion of the sales. In addition, for every pack of socks sold, one pair of socks will be donated to a local community homeless shelter. In-person attendees will also have the ability to decorate donated leg braces.
Sock can be purchased virtually or on site at the in-person conference.
---
Questions?
We appreciate your patience and support as we work through these processes to provide an opportunity for choice and participation for all members. Please direct questions as follows:
Conference Questions:
Email: meetings@fcclainc.org
Phone: 703-476-4900
Competitive Event Questions:
Email: competitiveevents@fcclainc.org
Phone: 703-476-4900
Elections, Youth Sessions, Adviser Professional Development Sessions:
Email: leadership@fcclainc.org
Phone: 703-476-4900
---
NASSP Approval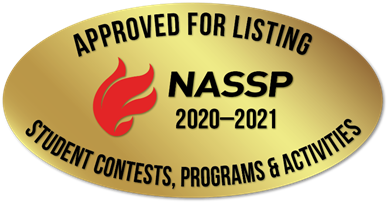 The National Association of Secondary School Principals (NASSP) has placed the FCCLA 2021 National Leadership Conference on the National Advisory List of Contests & Activities for 2020-2021.
---
Future National Leadership Conferences
June 29 - July 3, 2022 • San Diego, CA
July 2-6, 2023 • Denver, CO
June 29 - July 3, 2024 • Seattle, WA