Resources
Registration for the conference can be found in the FCCLA Portal under the Meetings & Events tab. Registration is required to participate in all sessions at the National Leadership Conference. Name badges will be checked for admission to conference sessions and activities. Affiliated students, advisers, and guests (chaperones, parents, school administrators, etc.) must register for the 2022 NLC Weekly Registration rate or the 2022 NLC Registration Package.
Chapter and state advisers who are registering themselves, students, and non-member guests including FCS teachers interested in becoming an FCCLA Adviser, click here.
Click here to view the 2022 National Leadership Conference Registration Rates. 
If you have any questions or need assistance with registering, please email meetings@fcclainc.org.
---
Registration Deadlines
March 1, 2022    
National Leadership Conference Registration Opens
May 4, 2022        
National Leadership Conference Early Bird Registration and National STAR Events Registration ends for states with state meetings prior to April 25

National Leadership Conference Special Assistance Requests Due
May 10, 2022
Deadline to apply for additional Youth Opportunities (Say Yes to FCS Signing Ceremony, Fashion Show, and Spotlight on Projects and STAR Events Showcase)
May 18, 2022      
National Leadership Conference Early Bird Registration and National STAR Events Registration ends for states with state meetings on or after April 25

Housing Cancellation Deadline to avoid cancellation fees of $450 per room
June 1, 2022
STAR Events Substitutions Deadline

National Leadership Conference Regular Registration Ends

National Leadership Conference Name Change/Substitution Deadline for no additional fee

National Leadership Conference Registration Cancellation Deadline to receive allowable amount refunds

National Leadership Conference Housing Reservation Deadline
June 10, 2022
June 15, 2022
Payment Deadline for NLC Registration to avoid a late fee of $25 per invoice
---
Information Needed for Registration
During the registration process, you will need to provide the following information:
Individual Email Addresses
At the time of registration, every participant is required to provide their own email address that they will have access to during the summer months. Duplicate email addresses are not permitted.

We advise using an alternate email address other than a school email so that the attendees have access to it over the summer. Providing a Gmail, Outlook, Yahoo, or any other trusted email service provider will help ensure participants receive all NLC related communications.

The email provided will be used as their unique sign-in to the conference mobile app.
Emergency Contact Information
All attendees are required to provide an emergency contact while in attendance at the conference. This information will be displayed on the back of the official name badge in case of an onsite emergency.

Red Rhinestone Lanyard Upgrade presales end.
Special Needs Accommodations
All attendees should indicate if they will require any accommodations to attend the conference.
---
Registration Add-Ons
During the registration process in the Portal, you have the option to register for the following items:
Red Rhinestone Lanyard Upgrade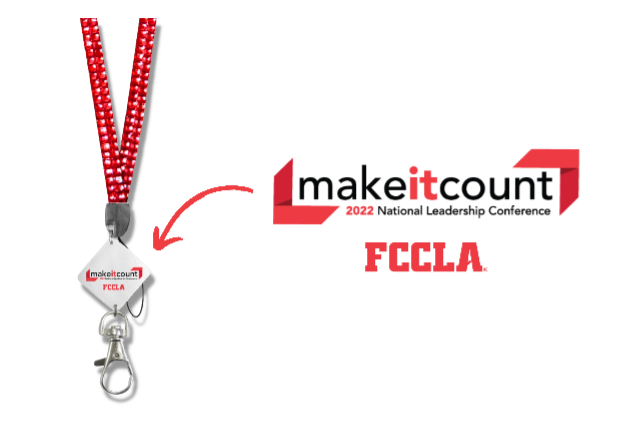 Conference attendees have the opportunity to upgrade their lanyard to a limited-edition 2022 FCCLA NLC Red Rhinestone Lanyard for a special pre-conference price of $15. Stand out with some sparkle in San Diego and get yours today! Advisers can add this option to your conference registration in the FCCLA Portal. Pre-sales end on Wednesday, May 18. A very limited supply will be available for purchase onsite in San Diego for $20. 

Proceeds from the Red Rhinestone Lanyards will benefit FCCLA's Ultimate Leadership Fund, which supports the needs of members and chapters by designating funds to provide affiliation support grants, chapter, and individual grants, competitive event recognition, and support additional areas of greatest need.
White Corrugated Tri-fold Poster Display Boards
Conference attendees have the opportunity to purchase display boards for their competition presentations during the registration process.  Save time and money and put yourself at ease knowing you will have your display board when you arrive in San Diego! Boards can be picked up at the FCCLA registration desk. Price: $10.
Baking & Pastry STAR Event Competition Items
Student participants in the Baking & Pastry STAR Event competition have the opportunity to purchase a 3-pound tub of white cake icing to be used in their competition. Select the item during conference registration in the Portal if you wish to take advantage of this opportunity. Icing Price: $20.
Special Events
Please go to the Special Events Page to see the great options available.
---
Registration Payment and Confirmation
Once you submit your registration, an email confirmation will be sent to the primary email address on file. If you do not receive this email confirmation within 48 hours, please email meetings@fcclainc.org. Please check your junk or spam email folders before emailing.
The confirmation will include housing reservation, housing payment information, and registration material pick-up time sign-up.
Competitive Event participants will receive a separate email with additional information following the registration deadline.
PAYMENTS
Conference registration payments should be submitted in time to be received at National FCCLA by the published deadline. Payments received after June 15, 2022, will incur a $25.00 late fee per invoice. Registration packets will only be distributed to chapters with a zero balance or by securing the balance with another form of payment when picking up registration materials.

Payments are accepted in the form of check or credit card. A purchase order is not considered a form of final payment.
CREDIT CARD
Credit card payment may be made by MasterCard, VISA, American Express, or Discover online in the FCCLA Portal under the "Invoice(s)" tab and "Pay Invoices" button. You can also pay by phone by calling 703-476-4900.
CHECK
Mail registration checks along with a copy of the registration invoice to the following address:
FCCLA
1910 Association Drive
Reston, VA 20191
ATTN: 2022 NLC Registration
NOTE: Checks for housing payments should not be mailed to FCCLA Headquarters or included with your registration.