The Ultimate Leadership Experience Celebrates 75th Anniversary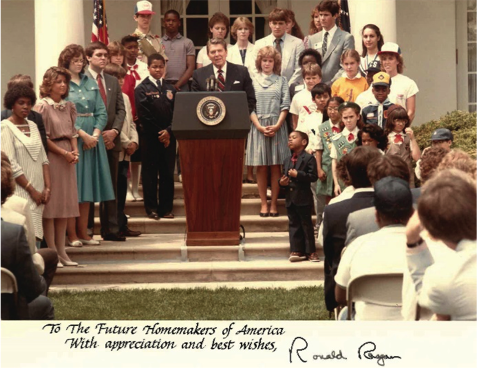 RESTON, VA (June 4, 2020) – Family, Career and Community Leaders of America (FCCLA) is celebrating its 75th anniversary on June 11, 2020. Formally known as Future Homemakers of America, FCCLA was founded at a convention in Chicago, Illinois when 29 Home Economic leaders came together with the idea of creating one national student organization aimed at preparing today's students to be tomorrow's leaders in the home and workplace.
Since 1945, FCCLA has been addressing important personal, work, and societal issues through Family and Consumer Sciences (FCS) education—previously known as Home Economics. At its height, the organization's membership peaked at 607,175 with members from 53 state associations, including Washington, D.C., Puerto Rico, and the Virgin Islands. Dolly Parton, Reba McEntire, and Bo Jackson are a few of FCCLA's most nationally recognized alumni.
Today, more than ten million students have been involved in FCCLA and have changed countless lives across the nation by participating in National Programs, competing in Competitive Events, exploring Career Pathways, and attending national conferences. FCCLA continues to be the Career and Technical Student Organization focused on preparing youth for careers that support families and strengthens members employability skills by preparing students to be college-and career-ready.
"Joining FCCLA has truly been life-changing," said Tyler Lemley, 2019-2020 National President of FCCLA. "The skills, experiences, and opportunities I have had through FCCLA has instilled in me a newfound mindset and strong skillset which I will carry with me far beyond high school."
Throughout the years, FCCLA members continue to be leaders within their classrooms, communities, colleges, and careers. During the 2019-2020 school year, 55% of FCCLA members took advanced courses and 86% of members had a 3.0 to 4.0 GPA. In addition, 85% of members plan to pursue post-secondary education after graduating high school with FCCLA members' interest in FCS Career Pathways (Human Services, Hospitality and Tourism, Education and Training, and Visual Arts and Design) exceeding the national average by more than 10%.
"FCCLA's 75-year legacy is a major milestone and I am honored to be a part of the FCCLA family," said Sandy Spavone, executive director of FCCLA. "As we look ahead, I am excited to see how FCCLA and FCS education will continue to change lives within families, careers, and communities across America throughout the next 75 years."
FCCLA will officially kick-off its 75th anniversary celebration on its founding date of June 11 but will continue celebrating at FCCLA's first-ever Virtual National Leadership Conference, July 7-9, 2020, as well as throughout the 2020-2021 school year by honoring state charter dates and recognizing Leadership Hall of Fame inductees.
Research Source:
My College Options®/FCCLA Research Study
https://fcclainc.org/sites/default/files/FCCLA%20College%20Info%20Sheet.pdf